REVIEWS FOR "OUR KINGDOM UNDONE"
Friday, 10 Sep 2021
The reviews for "Our Kingdom Undone" have been pouring in over the past few weeks, and have honestly surpassed our wildest dreams and expectations.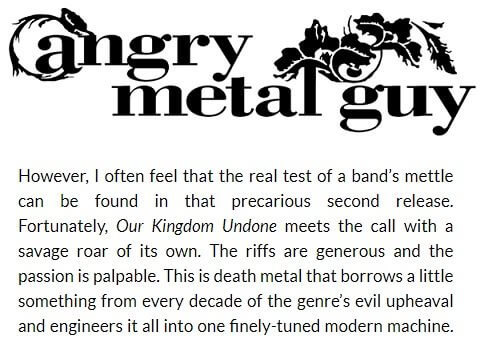 Obviously you can never be certain how something is going to be received, but it feels like a lot of people really *get* what we were trying to do, what the songs stand for and why they were written a certain way, and that means so much more than someone just slapping a score on it and calling it a day.
We'll be highlighting various different reviews over the next few weeks (and including links to all of them on our new Press page), and today we'd like to thank Angry Metal Guy, The Razor's Edge, and Wonderbox Metal for taking the time and making the effort to really dig deep into what the record is all about.
"Beyond Grace represent a cogent gestalt, whose potency is ever-adaptive and fundamentally angry." - Angry Metal Guy
"What separates Beyond Grace from the rest of the pack is the textured and layered guitar work over the top of some of the death metal riffs and the massive drops of djent that they put into each song." - The Razor's Edge
"Intelligent and emotive death metal it may be, but it can still claw your face off." - Wonderbox Metal